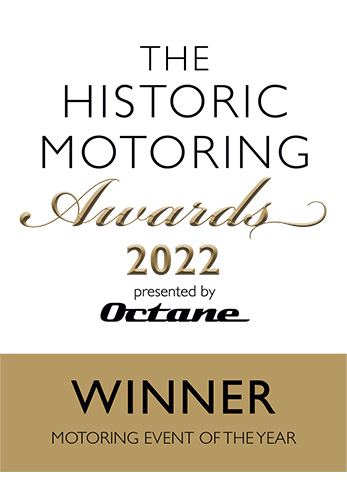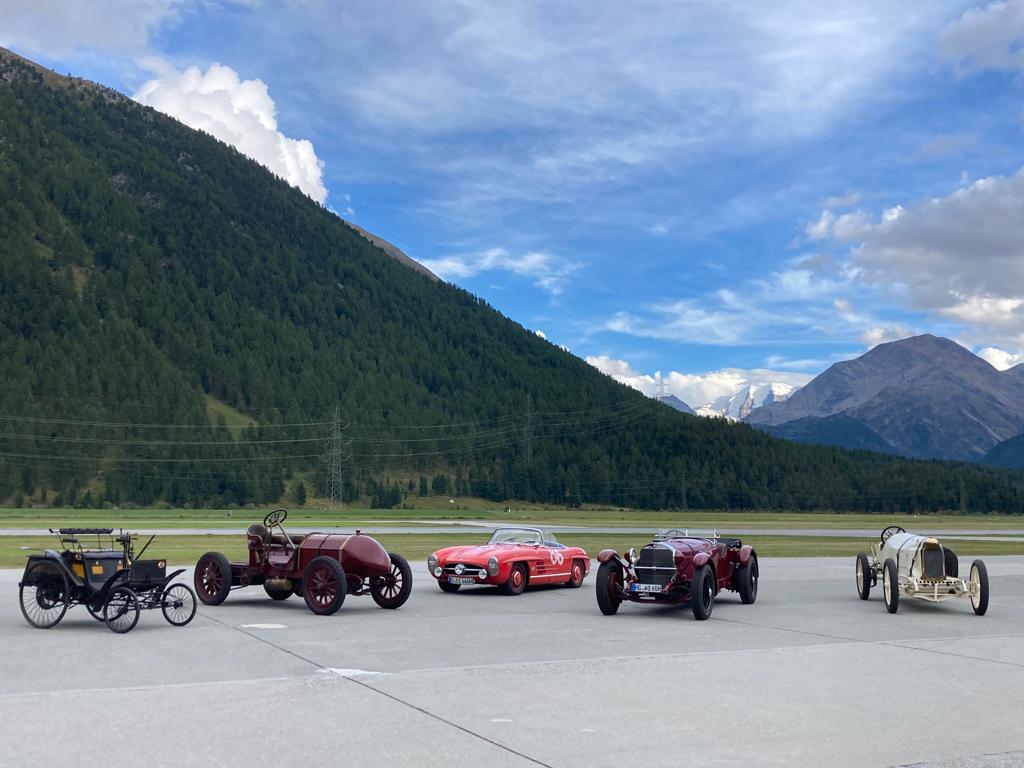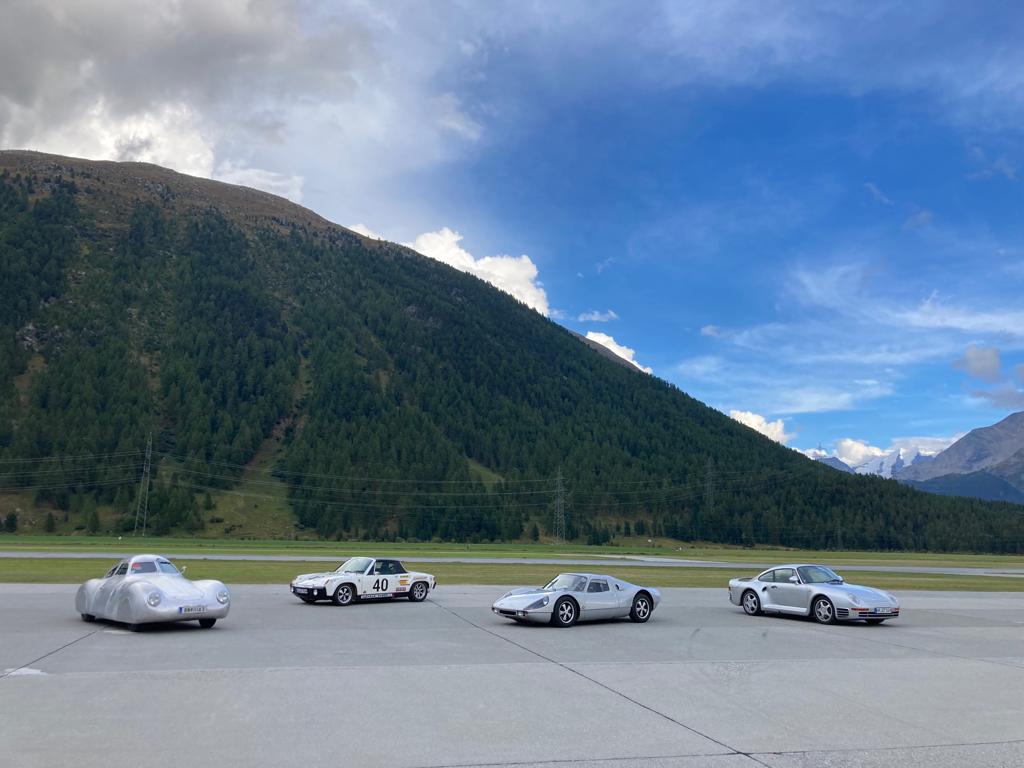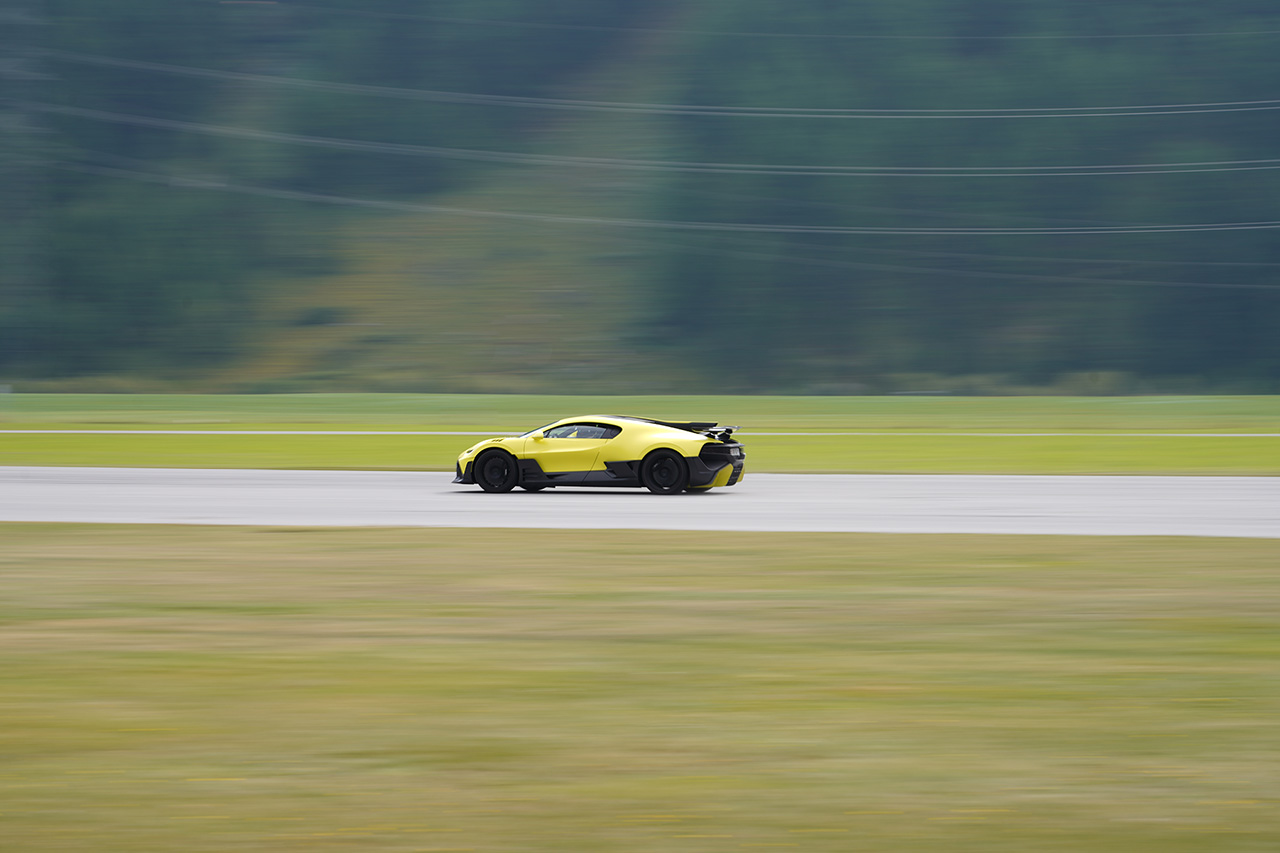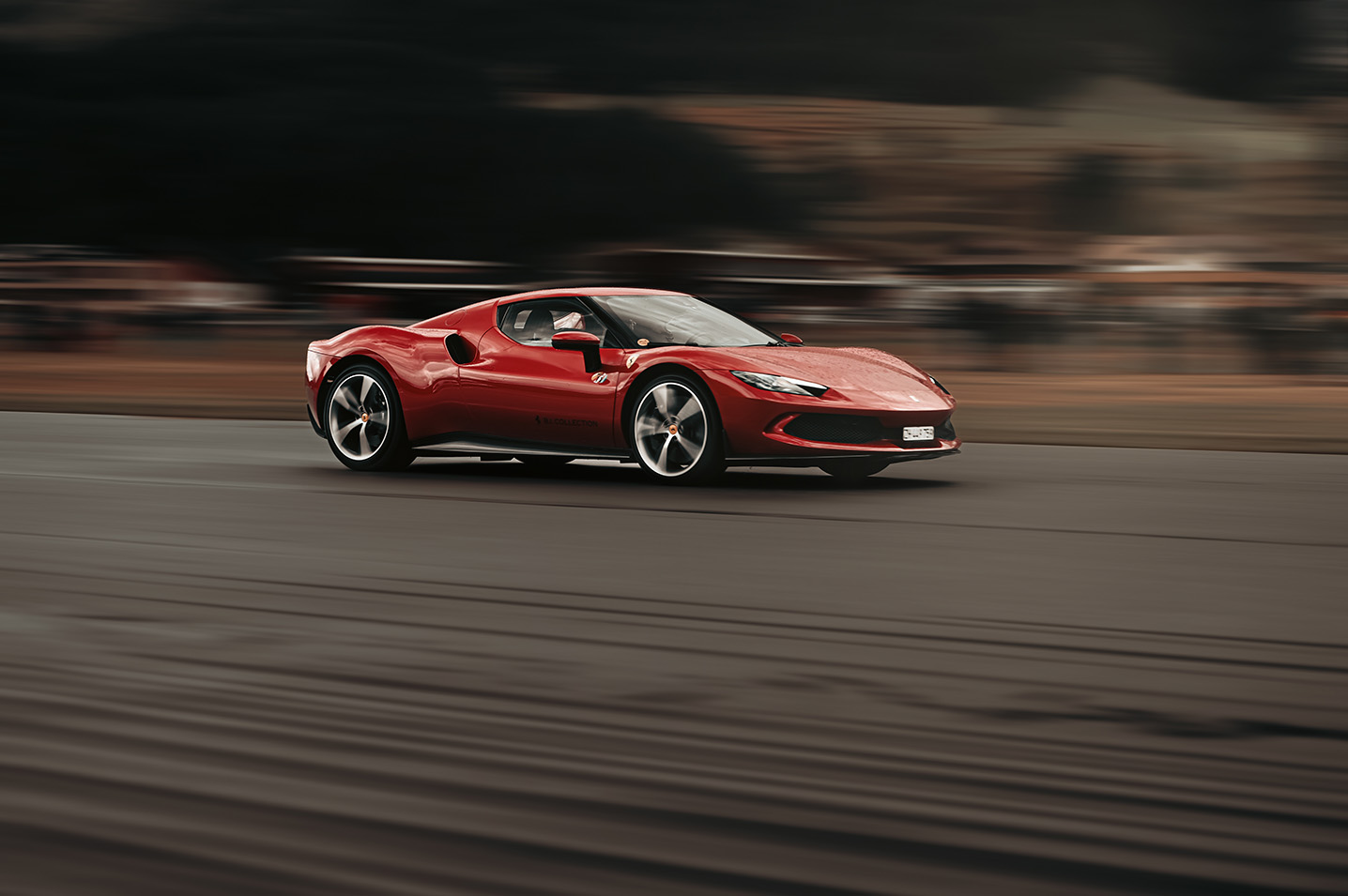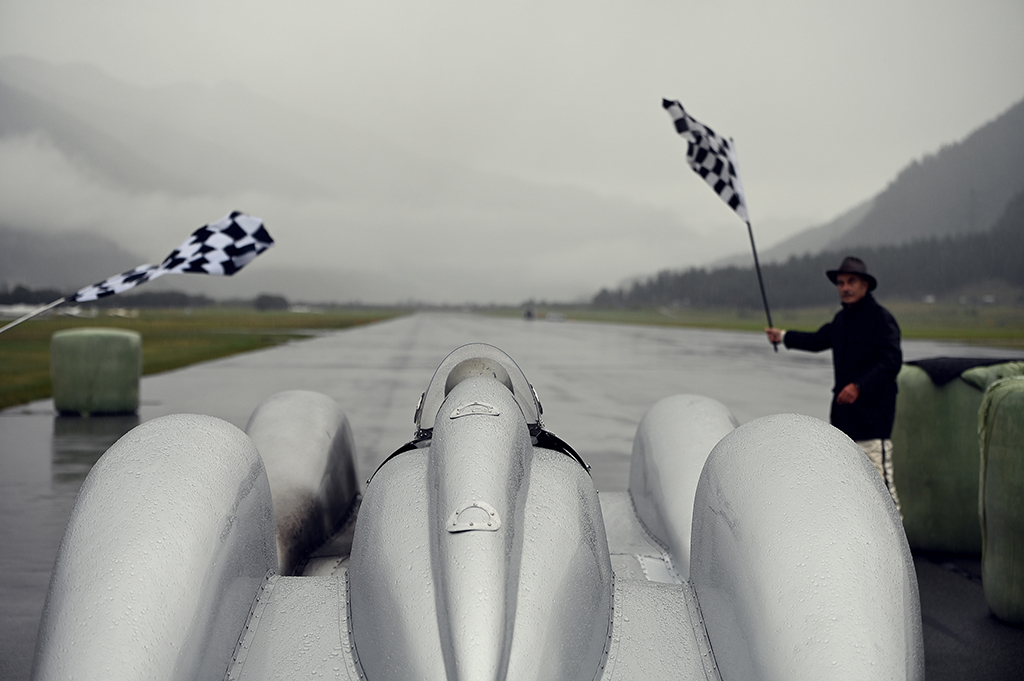 St. Moritz. The Kilomètre Lancé from 2 to 4 September 2022 at Engadin Airport in St. Moritz was a great success. Even initial weather capers were seen as a challenge by the 65 automobiles and motorbikes, who took advantage of the generous driving times to compete, to chase records from the early days of acceleration racing or simply to enjoy this ride towards the horizon. 
The Kilomètre Lancé, held by Solitude GmbH on a historical model as the opening event of the International St. Moritz Automobile Week, became a mobility festival without precedent. Nowhere else in Europe do then and now record-breaking vehicles have a similar presentation forum.
Hermann Layher from the Auto + Technik Museum in Sinsheim gave both the 1909 "Blitzenbenz" and the Mercedes Simplex 60hp streamlined bodies - the best times of the 1920s from zero to 1000 metres in their sights. Two Porsche 959s took their bearings from the measurements in the trade magazine auto motor und sport from 1987, when the brand-new Porsche 959 super sports car with all-wheel drive and register charging needed only 21.6 seconds for the sprint that was part of every car test until a few years ago. Marcus Hoefken needed only about two seconds more on the airfield - out of respect for the value of the Porsche technology carrier. Uwe Koenzen with his electric car project e01 even managed to undercut the Porsche's historic times.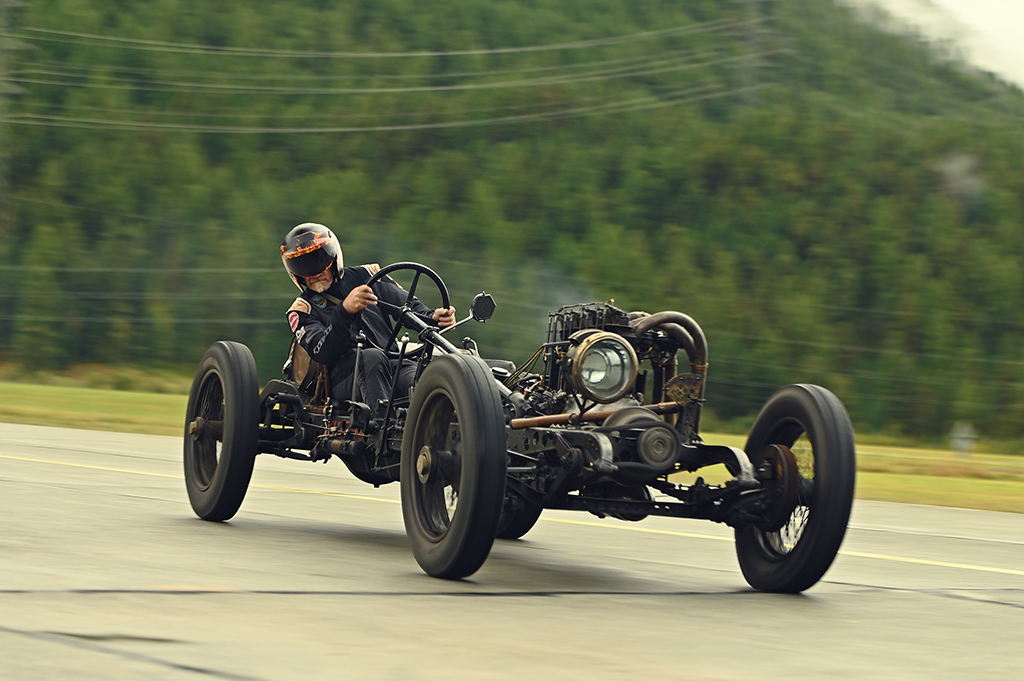 The motorbikes also caused a stir. Marco Niggli on his BMW S 1000 RR answered one of the central questions, whether motorbikes or cars are faster: The member of the Motorcycle Club Samedan dashed to the light barrier 1000 metres away in only 18.06 seconds and thus in the best time of all participants, thus even relegating the new Ferrari 296 GTB to second place.
With starting number 1, Kurt Engelhorn's legendary Brouph Superior drove its course and Udo Dobzansky demonstrated with the original racing machine Indian "Daytona" State of the Art at the beginning of the twenties.
The newly created design award "Driven by Design" thrilled spectators, participants and jury alike. In the end, the more than seven-metre-long Streamliner from 1939 with its 16-cylinder engine won out, ahead of the record-breaking 1954 Jaguar XK 120 and the "driving chassis" Delahaye 107 from 1924. Among the motorbikes, the six-member jury was most fascinated by the Triumph, which Zurich's Nick Heer usually trims to top speed on the Salt Lake in Utah.
The fly-in with five historic aircraft rounded off this year's Kilomètre Lancé and led to an exciting exchange of technology between pilots and riders.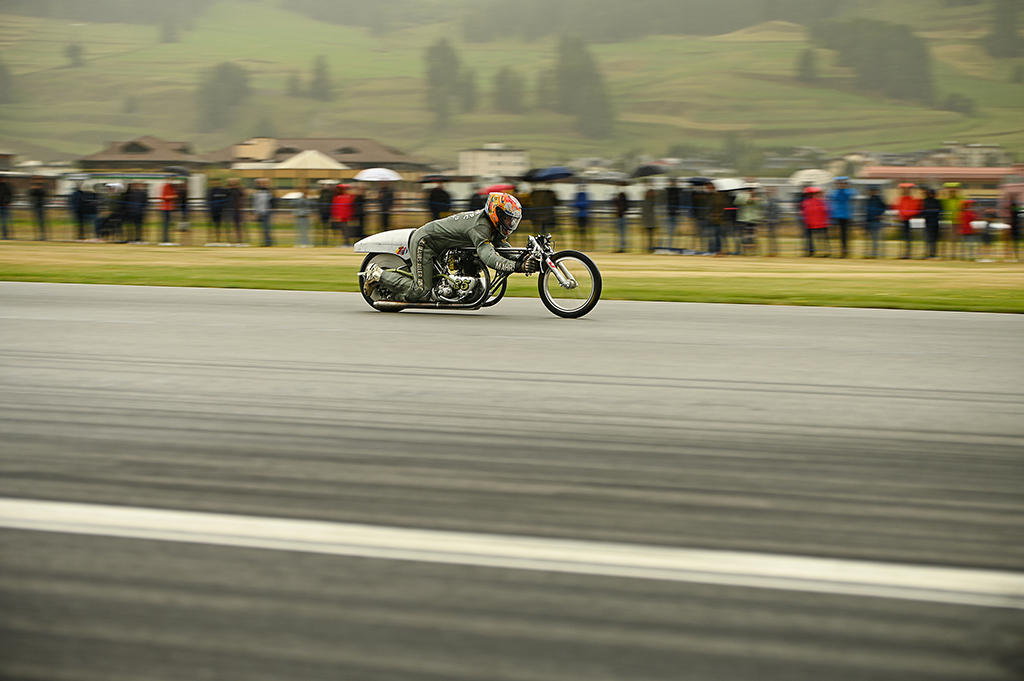 If you have any questions, please do not hesitate to contact Tobias Aichele.
 Photos: Christian Lienhard and  Rupert Philips